As a Maine maternity photographer, I love seeing clients come back time after time. Many times I have clients I meet for the first time to do their maternity photos, then their baby's newborn session and family pictures. It's something I wholeheartedly enjoy especially when they come back and say they are adding another addition. 🙂
This is the best job in the world! I get to make families happy, they come to me trusting me that I will provide them with high-quality images for their home and to share with family and friends but also for the experience. This is mainly about the experience, it's about finding someone you can trust with your family, someone who can make you feel comfortable and someone you end up building a friendship with that makes you want to come back for all the experiences to come. That is what photography is and like I said, it really is the best job. So, with that being said, come meet the Norwood family.
The Norwood Family – Boothbay Maternity Photoshoot
I was thrilled when Megan called me to come to do her son Grayson's six-month pictures with her goats! Yes, I just said goats! The picture below is proof! I have been doing Grayson's pictures since he was a newborn. Seeing my little clients again always brings me so much joy to see them growing up and see their personalities blossom. The excitement came when Grayson's mom Megan asked me to do her Maternity pictures announcing she is pregnant again! I live for the shock value in people but sometimes people catch me with excitement and I am the weirdo that jumps up and down with joy. Another little baby is on the way.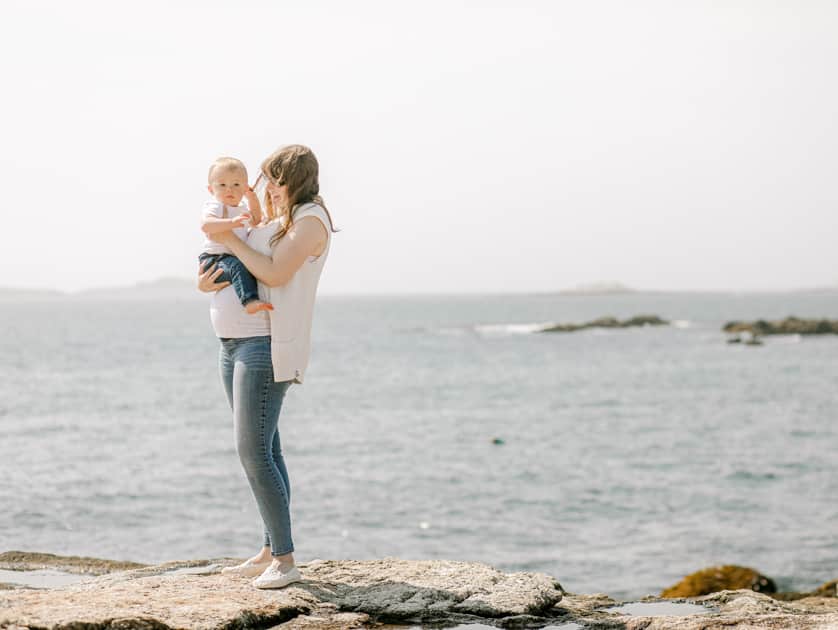 Maternity Photography in Ocean Point Boothbay
Hiring a maternity photographer to capture these moments makes the journey all the more memorable. Megan called me and asked if we could move the maternity pictures up because there was a possibility the baby was going to come a little early. I happened to have an opening in a few days we we moved the date up a few weeks. Megan decided to do her maternity pictures at Ocean Point in Boothbay. This was a new location for me and boy was it worth it! Talk about gorgeous coastal Maine views! There was a scenic narrow drive around the ocean that allowed me to scope out some of the most beautiful spots. It was a sunny morning, a rocky beach, and the waves were just perfect, it couldn't have been more beautiful! Baby G also did very well and seemed to love the little rocky beach.
Needless to say, I am so glad we moved things up because baby Cannon came very soon after our excursion.  Little did we all know that after our maternity adventure at Ocean Point in Boothbay would be the last outing they had as a family of three before baby Cannon decided to make his appearance. What an adventure! We got those maternity photos done in the knick of time because baby Cannon was ready to meet everyone and was certainly NOT going to wait one more day.  I can't wait to share baby Cannons newborn blog with you all. Stay tuned.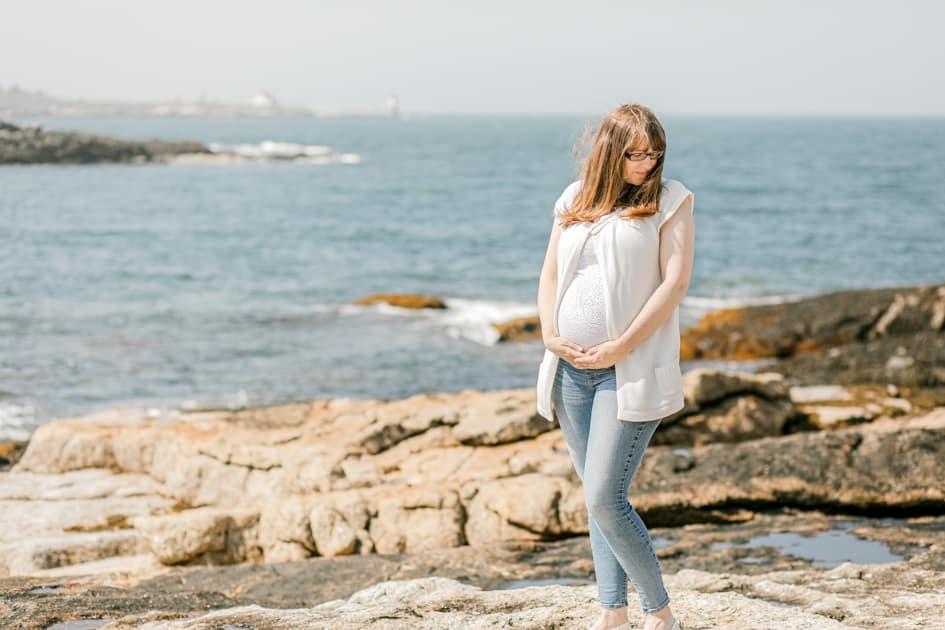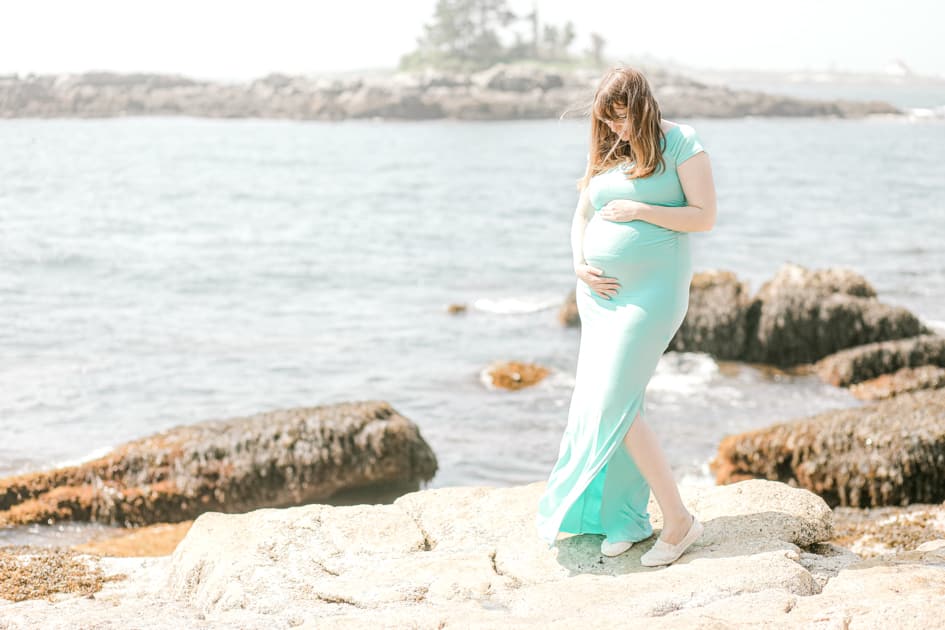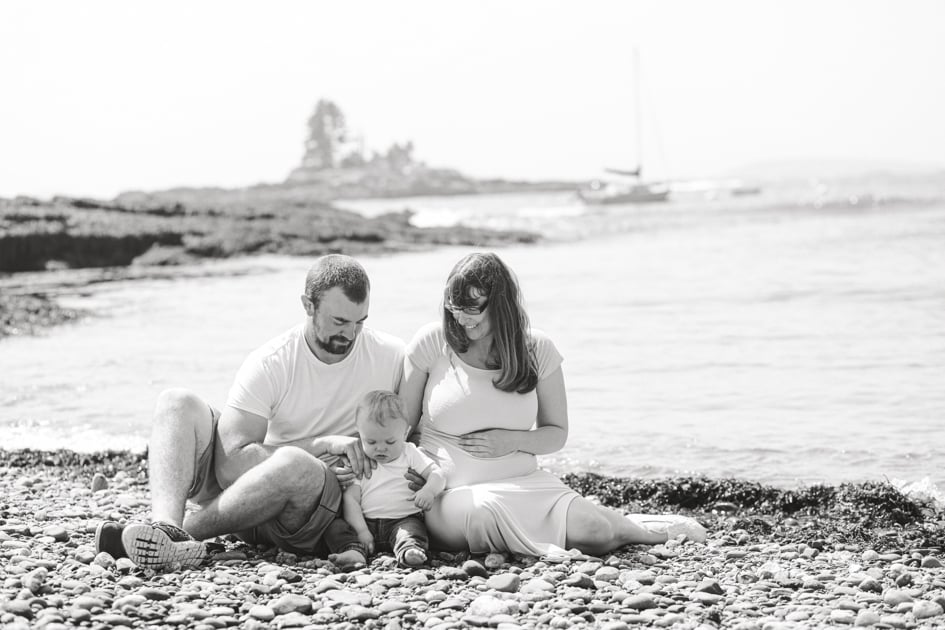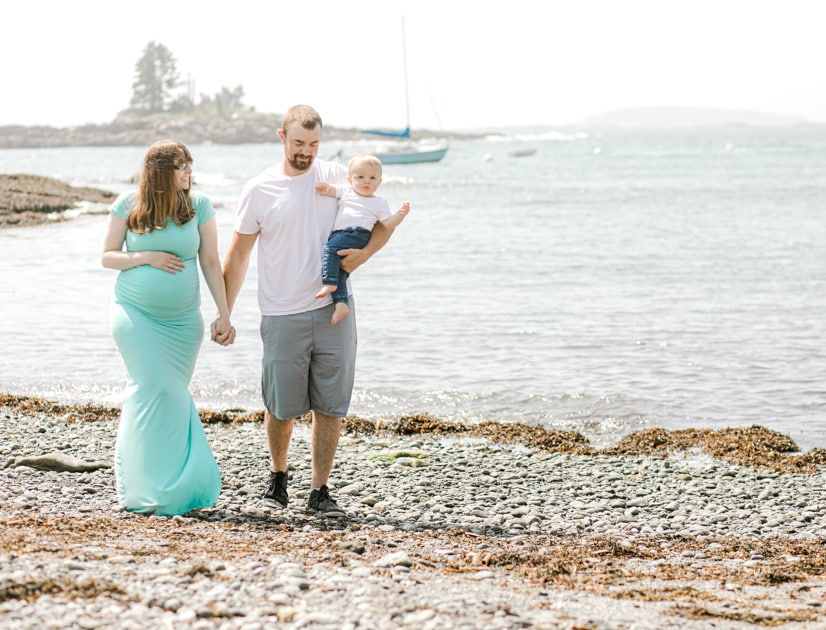 Want to see a unique maternity milk batch session?
Owl My Love,
Catherine